Once the ancient capital of Strathclyde, (long before the monstrous local government creation in the 1970s).Home to a rather grand castle perched high upon a volcanic rock
Beside the castle stood the Blackburn Aircraft factory which made the Botha and latterly Sunderland Flying Boats.
Dumbartons' other claim to fame is the Deny Ship Model Experimental Ship Tank. In its day this tank was revolutionary.
Before this tank was built ship builders had to build their ships, using the best practices of the day and hope that their ships met the design criteria and satisfying the ship owner that their new ship really could sail at so many knots.
What Denny done was to make ship hull models cast in wax and then pull them through a large water tank and measure the water resistance, shape of the wake. Then from all that do some number crunching and say that this hull will probably, almost certainly, definitely maybe, sail at its design speed.
The concept lasted well after the yard closed in the 1960s, and the tank is still used by Strathclyde University today. The tank is operated by the Scottish Maritime Museum and is open to the public - well worth a visit.
A memorial plaque is mounted on the side of the Ship Tank building commemorating William Froude. The inscription reads,
"This facade of the Leven Ship Yard Experimental Tank is erected in memory of the late William Froude FRS, LLD, the greatest of experimenters and investigators in Hydrodynamics Born 29 Nov 1811, died 4th May 1879."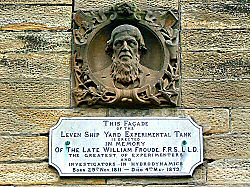 William Froude memorial