I have been passing this way for ages, seen this plaque and never bothered stopping, and now I have stopped, I am glad I did. The plaque is in memory of Marjorie Fleming and bears the inscription, "Pet Marjorie, 1803-1811, Marjorie Fleming wandered here, "in rural felicity and pleasure" and praised it in her journal as a "delightful place, Braehead by name, where there is ducks, hens, bubbly-jocks (old Scots word for a Turkey), 2 dogs, 2 cats, swine and which is delightful." There is a stone horse trough to the left of the plaque.
This "wonder - child" Marjorie Fleming, was born on January 15th, 1803, at 130 High Street, Kirkcaldy, Fife, and died on January 19th, 1811 - a short life, but a happy one with a mission. Her short life is remembered for the diary she kept during her last eighteen months, which was first published in 1858. The diary was a great success in Victorian times.
Buried in Abbotshall Kirkyard, Kirkcaldy.
From Andrew Crumey's web site and from the Fife Post
The plaque is on the NCN 1 between Cramond Brig and Gamekeepers Road.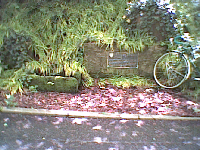 Pet Marjorie memorial
---
I have passed this way countless number of times and never noticed these two holes in the wall. My suspicions were confirmed when I climbed onto the wall to see what was on the other side. The holes have been widened on the far side so a rifle or machine gun could have a wider field of fire.
Looking at the emplacement today, you would wonder why have an emplacement here in the first place? The penny dropped for me when I saw an old mile post a little farther up the road — until the A90 dual carriageway opened in 1964, this was the main road into Edinburgh from Queensferry and is opposite one of the entrances for the Craigiehall Army Headquarters. The emplacement must have been made during WW2 as a home defence measure.
The holes can be seen north of Cramond Brig Inn, opposite the Vehicle Inspectorate weighbridge.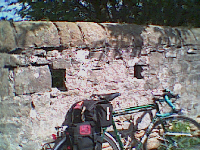 The two home defence gun loops
A short distance from the gun loops is an Edinburgh mile post with a surveyors benckmark chiselled.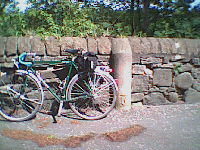 The old mile post and surveyors mark
---
Caledonian railway.
The coat of arms for the Caledonian Railway is incorporated into the ironwork of the railway bridge over Kew Terrace / Corstorphane Road.
The route of this old railway forms part of the National Cycle Route 1 into Edinburgh and may be a part of the new tramway project.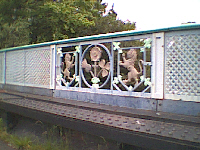 Caledonian Railway Coat of Arms