Standing in a field, straddling the A907, Alloa Road and the NCN 76, is the Hawkhill Stone. There are crosses cut into the front and the back of the stone and nothing else. My "Wee guide to The Picts" suggests that this may have been a gravestone.
There is no clear route to this stone, I waited until the crop was in before making my way from the Clackmannan to Alloa section of the NCN 76.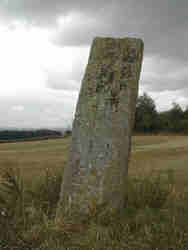 Hawkhill stone
---
This is the keystone of Mary's Bridge, which carried the main road into Clackmannan over the Black Devon River.
The bridge is built upon the site of a former bridge that Mary, Queen of Scots once crossed over. The inscription reads "Mary's Bridge A D 17th April 1796." The scraping of red paint is not so historic.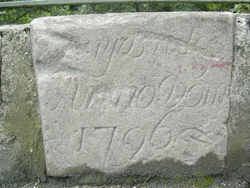 Keystone Mary's Bridge
The old Tollbooth, Merkit Cross and King Robert's Stone can be found the in the centre of Clackmannan town. The tower is all that remains of the Tollbooth, which was an administrative building for the town, Taxes, Courts and prison to name a few.
The Merkit Cross or Market Cross marked the site of the town market. It is inscribed with the coat of arms of the Bruce family.
The stone in the background is said to have connections with King Robert The Bruce, though what is unknown.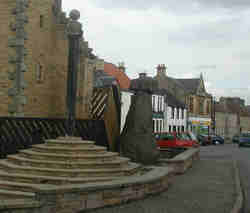 Old Merket Cross
The Dunfermline to Stirling cycle route NCN 76 leaves Clackmannan opposite the cemetery and goes through a set of gates heading towards Alloa. Either side of these are two inscribed stones.
This one is the northernmost one, which bears the inscription, "This wall was built enclosing fully 2500 yards of Alloa Park by the directions and care of John Francis, Earl of Mar, Lord Erskine in the 36, 37, 38 & 39 year of his age & ANN DOM 1832, 33, 34 & 35." Or in other words Keep out - Johnny Mar said so!
The second stone on the southern wall reads, "John Francis, Earl of Mar, Lord Erskine RL of Kellie, Viscount Fenton and Baron Dirleton Ædificare fecit anno 1836."

Alloa park gate stone