The Well
The waters from this well are reputed to have curative properties, King Robert the Bruce is said to have been cured of Leprosy by drinking the water from this well.
At one time Scotlandwell was an important monastic centre, the monks ran a hospital from which the patients were administered the spring water as part of their treatment. The Dryside Road was an important highway for the monks and pilgrims, linking Scotlandwell with St. Andrews. Today the Dryside Road prematurely ends at Wester Balgeddie and nothing remains of the monastery.
The natural spring water can be seen bubbling up from the ground, indeed it must have some properties as the coins in the water do not tarnish... I wonder if it any good for curing punctures?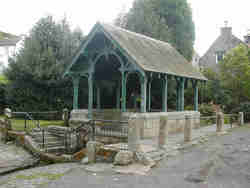 The well at Scotlandwell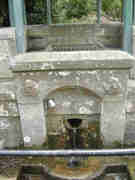 The drinking fountain, 1858 style
---
The Steamie
Beside the Well is the "steamie" or communal wash house, which still has the brick works for holding the cauldron for boiling up the laundry. It is not open to the public, nor was it coin-operated.
Michel Bruce, the local poet was born in Portmoak Parish and is buried in the churchyard of the Portmoak Parish Church.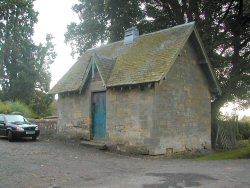 The steamie
---
Michael Bruce
Born in nearby Kinnesswood, Michael Bruce died at an early age and was interred in the parish church yard at Scotlandwell.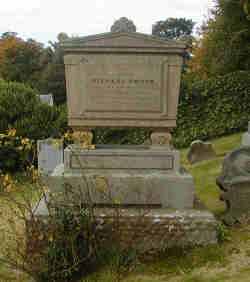 Bruce Gravestone
---
The Culdee
This stone marks the site of an ancient Culdee place of worship and of an hospital and chapel erected by Bishop Malvcism and consecrated by Bishop De Bernham, 2nd October 1244 as the Egglisia hospitalis de fonte scote.
In this burial ground, Mr Ebineezer Erskine laid the remains of his mother, wife and four children while minister of Portmoak from 1703 to 1731.
Ebineezer Erskine went on to become a founder of the Secession Church.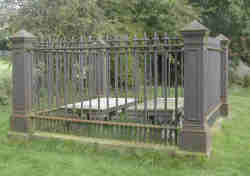 The Erskine lairs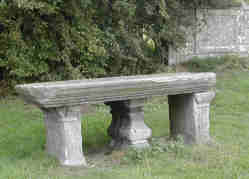 A burial lair and memorial stone