Brandsbutt Stone
This Class 1 stone has a crescent V-rod a snake and a Z-rod carved onto it. An Ogham inscription (along the left hand side) bears the inscription "IRATADDOARENS." The Aberdeenshire Council web site suggests that this inscription could be linked with Eddarrnonn, a possible rendering of St. Ethernanus.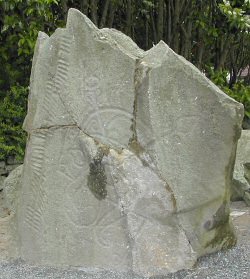 Brandsbutt Stone, The serpent has scales carved onto the design.
Select site 54 on the map Aberdeenshire Council
---
Inverurie Kirkyard.
The churchyard is dominated by two earth mounds which were utilised to form a motte or the mound on which a castle was built.
It was a bit of a expedition to find the pictish stones, look under the trees between the railway line and the mounds.
Part of a disc and a double disc and Z-rod

Part of a disc and an arch (possibly a crescent).

Above. This stone has a crescent and V-rod, disc and rectangle, a double disc Z-rod and a snake.

Left. There is a carving of a trotting horse, this picture does not do it justice. This is the only instance of a horse has been seen without a rider.
Select site 55 on the Aberdeenshire council map
---
Easter Aquhorthies
This site is called a recumbent stone circle, that is it features a stone which is lying down. Apologies for the pictures, my visit coincided with a very dreich spell of weather.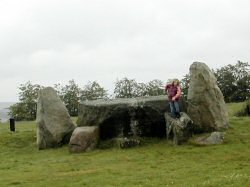 Young "Narky" gives a sense of scale to the recumbent stone. She steadfastly refused lie down and be used as a human sacrifice, children these days.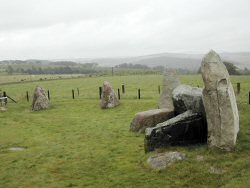 The recumbent stone and four of the eleven erect stones.
Select site 14 on the Aberdeenshire council map