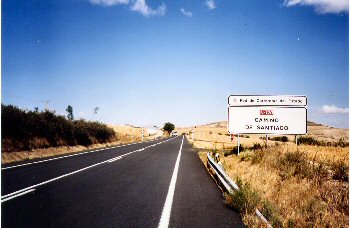 On the road
Introduction
This sounds a bit religious, and to a point it is. I was asked to accompany my friends from the local church, they decided to undertake the pilgrimage to Santiago de Compostela, in north-west Spain for themselves and to raise money for SCIAF, the local children's hospice Rachel House and other parish charities.
The group consisted of the Parish priest Father Neil Dorward, and his friend from college Father Paul Friel, who has a parish in Glasgow. The Kinross contingent consisted of Tom Traynor, Jim Ferrier (our "roadie" and van driver) and myself Wallace Shackleton. Graham Bowstead, the person that could speak Spanish and who had really wanted to go on the pilgrimage had to cancel at the last moment.
For me there was no "conversion on the road to Damascus" but I did gain a better insight into the faith of my family and friends.
---
My first impressing on arriving in St. Jean Pied de Port was the sight of so many pilgrims milling about. Pilgrims gather here from all over France to cross the Pyrenees into Spain. All seemed to be loaded with heavy rucksacks and usually carrying a staff of some sort; some used the traditional large wooden staff while others chose the lighter, modern ski pole. It will take these pilgrims almost a month to walk the entire way, usually travelling up to 50 km / 30 miles per day.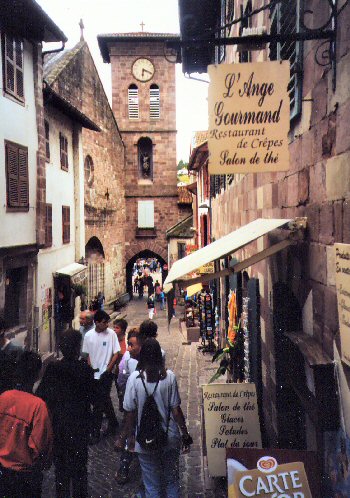 St. Jean Pied de Port
The other thing that struck me was that this was Basque Country, not France, not Spain but Basque Country. I never realised until then just how fiercely proud of their identity the locals are. The Basque Separatists Group ETA, are a renowned terrorist organisation, however to the best of my knowledge there has been no trouble on the pilgrimage route.
As tomorrow was Sunday we went to find the local office of the Confraternity to register and have our Pilgrims Passports stamped, obtaining the first of many stamps to prove we had made the pilgrimage.
From St. Jean it was only 8 km to the Spanish border. The border itself was uneventful we crossed over a bridge and that was that. No welcome to Spain signs or "Haste ye back" nothing, total European integration the only difference was the road numbers had changed.
The real climbing started at the border and there now developed a pattern, which would last for the remainder of the pilgrimage; Neil and Paul with their lighter bikes, would forge ahead while Tom and I would plod along, or in other words they left the old ones standing!
The puncture fairy struck Tom half way up the Pyrenees, suffering his first puncture of the trip. Tube changed and we were off again, a short distance later and were at the top of the 1057 m Puerto Ibaneta, I had been dreading this climb and it was over, a real non event!
A short distance downhill is the village of Roncesvalles, where after a visit to the monastery and a coffee at the refuge we were ready for the short journey to our own hotel in a nearby village.
Just as were setting off a man asked us if we knew where the group of Scottish pilgrims were?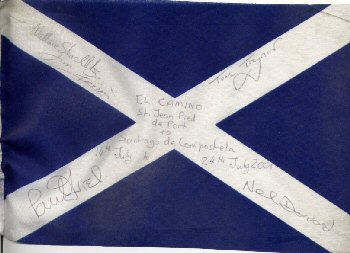 The Saltire, signed by all at the end of the way
Fame at last (or maybe the Saltire on my bike rack gave the game away)! The Saltire or St.Andrews Cross is the national flag of Scotland. He had been "tipped off" by the Confraternity office in St. Jean that we were on the road and decided to seek us out for an article that he was writing. From the statistics we saw in the Confraternity office in St. Jean, the bulk of the pilgrims were Spanish and only a tiny percentage were from the UK. Interview over we arrived in Bourgette, at the end of our first day we covered a mere 35 km in two and a half hours.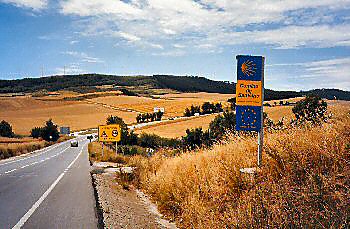 The Way of St. James & Eurodosh
The next day we travelled through rolling hills, up a minor climb of 801 m followed by a long descent into Pamplona.
Pamplona was like any other major city — easier getting in to than getting out of. We found our way out of town after an unpleasant run along a dual carriageway and a short climb. It was here that Paul and I lost Neil and Tom. All sorts of unpleasant scenarios passed through our minds, so after a long wait we decided to retrace our steps to where we last saw them, and that was where we found them, mending another puncture on Tom's bike.
We stopped for lunch at a small village café sampling traditional Spanish fare; no wine though, ahead was more climbing followed by a long descent. We passed through the town of Puente Reina, stopping to photograph the beautiful old bridge. I found myself bringing up the rear again struggling with the heat as we climbed out of the town along the busy main road to Logrono. Catching up with Tom we stopped at a Camino rest point with a superb view over the valley below. Sheltering from the hot sun we refilled our bottles from a well and we were off again.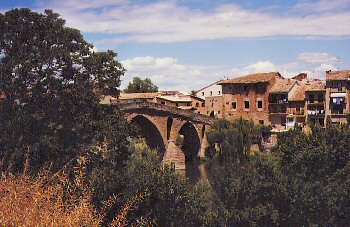 Puente la Reina
We met up with Jim on the outskirts of Estella where we were staying. Having tried to find the hotel with no success, we gave up, loading the bikes in the van we went off in search of a tourist information centre and our hotel. We found our hotel at the top of a steep hill, Neil and Paul unfortunately cycled up. We met a group of Belgian cyclists at our hotel, who planned on going to Santiago in three days. These racing cyclists (not one of them was under 50, were taking a different route to the pilgrimage route, probably better for their racing bikes.) At the end of the second day we had covered 88 km in five hours.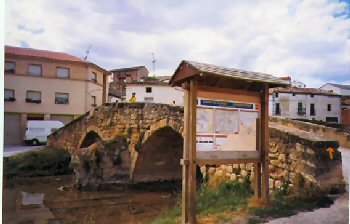 Villatuerta The way for cyclists is marked by yellow painted arrows, they can be anywhere, eg on the parapet of this bridge
Our support van had by this time gained the nickname of "Christine" named after a car in a horror movie – funny the things that go through your mind when you hear a van engine behind you....
The third day was a mixed one: a quiet run into Logrono, a difficult run out of the city and a potentially dangerous end to the day at Najera.
In Logrono, we managed to find a cycle shop where I bought a cycle computer. Somehow I had managed to leave mine at home and I fair missed all the techno garbage that only a cycle computer can bring.
We knew there would be a problem riding out of Logrono, the guidebook mentioned having to ride along a "motorway." The stretch of road in question was made to motorway standard with a wide hard shoulder but with none of the restrictions of a Spanish motorway, nevertheless the 6 km run was very unpleasant: Fast and close heavy traffic is a strong incentive to cycle quickly.
Disaster struck on the outskirts of Najera, I was "drafting" a lorry coming out of a roadside filling station when I managed to fall into a sunken drain puncturing my front wheel. Just before moving off I checked the wheel, it was buckled and then I saw something worse — the wheel rim was cracked, there was no way I would dare to cycle the rest of the way on a wheel could collapse on me.
I was saved from buying a new wheel, when the notion struck me to steal, sorry, borrow Graham's front wheel.
There were originally going to be five cyclists making the pilgrimage, unfortunately one pulled out at the last minute, he had left his bike in the van as there was a slight chance that he could join us later on. I was back in business after a quick realignment of the brakes, a real novelty riding a 23 mm wheel on the front and a 28 mm on the back, at least Graham's front wheel would complete the pilgrimage even if he could not! We travelled 84 km in four hours and 12 minutes.
The fourth day was probably our worst the day, we started with a 4 km climb into a strengthening head wind. The large number of heavy lorries on the road compounded our misery, one would pass followed by a brief period of calm then the head wind would return with a vengeance, then another lorry would come along. We endured this relentless pounding all the way to Burgos. Neil and Paul managed to use it to their advantage using the calm period to pick up speed, before the head wind returned; Tom and preferred to save our energy for the climb to come.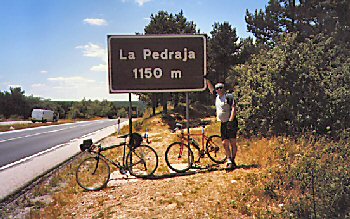 Puerto de la Pedraja. Christine lurks in the background.
The high point of the day was a 3 km 7% climb to the top of the 1150 m, Puerto de la Pedraja, even this climb did not seem all that hard. A brief rest at the top and we were off again on the final run towards Burgos. We were looking forward to a long descent off the mountain; unfortunately the descent was tempered by the head wind.
Reaching Burgos we found our hotel to be right in the middle of this beautiful city, and not too far from the cathedral. Small recompense for an unpleasant days cycling, we travelled 100 km in five and a half hours.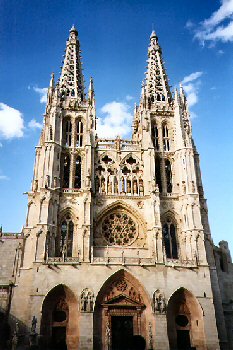 Burgos Cathedral
19th July, our fifth day – started cold with a slight drizzle, the first day since crossing the Pyrenees that we had needed to wear our jackets.
We passed a small ruined castle on the way, a fine chance for a photo opportunity and err … a rest.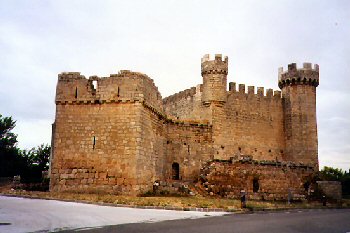 Olmillos de Sasamon
Farther on, two churches dominated the skyline of a small village, unusual to see to large churches in a small village. On closer inspection one of the churches had a dirty great big crack down one wall. It would seem that they would build another church and allow the old one to crumble to the ground, rather than see it end up as a discount warehouse.
It was a joy to turn off the main road onto a much quieter country road; we passed a deserted adobe village and another ruined castle on the way into Castrojeriz, this was a gem of a place. We found a café that turned out to be a former bodega, complete with its huge wine press, the counter weight stone, must have weighed a ton or more and it was still suspended off a huge wooden beam held by a wooden screw thread.
After lunch and back on the road the wind had increased and was now in our faces, making our progress slower and more painful. Tom and I stopped off at a village to check out a pillory, which was supposed to be worth seeing. Turning into the town square we saw three fellow cycling pilgrims, laid out, fast asleep having a siesta, a Spanish tradition that we grew to appreciate as the days grew noticeably warmer.
We stopped in Formista for a "Magnum Break"; our daily Magnum break was always looked forward to, if for no other reason of snatching a wee rest from the saddle.
The wind increased as we left the town making deep inroads into our morale. Again Tom and I sought some rest at the delightful little village of Villacazar some 7 km away from the days destination of Carrion de los Condes. We sat in the shade, on stone benches, which was comfier than my bike saddle, watching the world (and a bunch of Italian tourists or fashion refugees) go by, entertainment over we returned to the road for the final run into Carrion.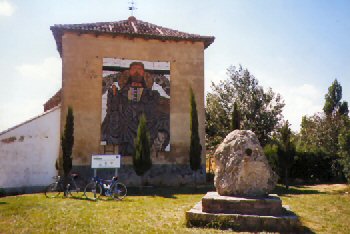 Carrion de los Condes - welcomes careful pilgrims
We eventually found our hotel for the night on the outskirts of the town and what a hotel that was. A former Benedictine monastery, part of which was converted into a hotel and the rest was in the process of being restored, a very amicable arrangement. If you are ever find yourself in this part of Spain then you could do no worse than stay at this hotel.
We cycled 100 km in five and a half hours, not bad considering the conditions.